The Vibe: Sleepy—but just a short walk away from action in any direction
Average Monthly Rent: $1,279
Average Home Price: $684,255
Neighbourhood Dream Day: Coffee at Elysian before a workout at Gymbox—gotta be fit to climb that Oak Street hill.
Locals Say: "The Laurel Street land bridge starts on the corner of West 7th Avenue and crosses over 6th Avenue. I love that you don't really know when you're on it—it's a really beautiful example of landscape integration."—Marianne Amodio, 46, architect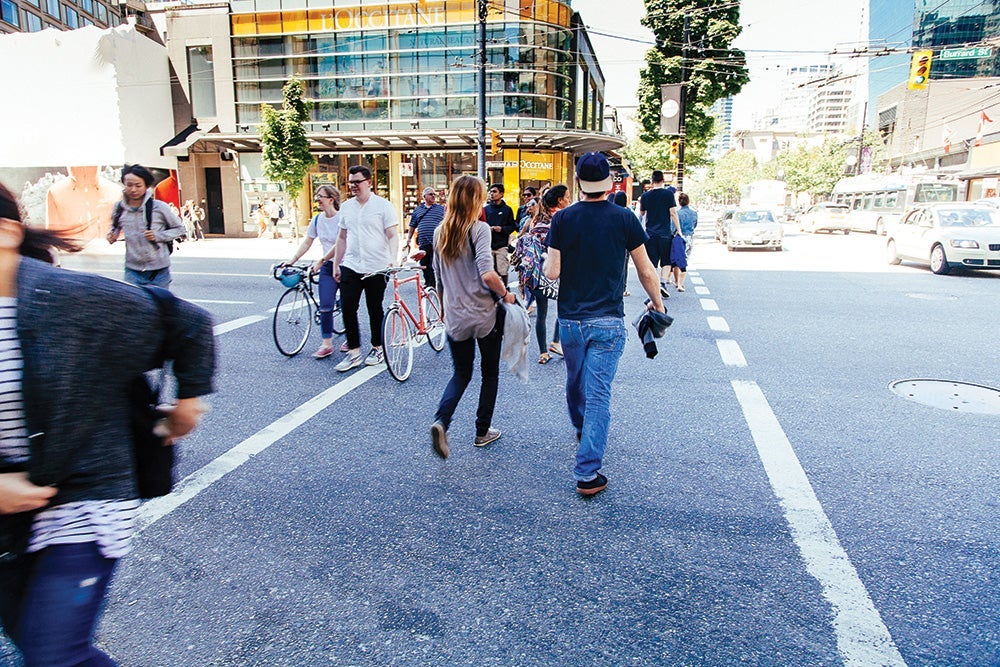 #5: 

Downtown
The Vibe: Big-city bustle
Average Monthly Rent: $1,692
Average Home Price: $785,058
Neighbourhood Dream Day: Shop-hop Robson's swanky brand-name stores and get lost in the Holt Renfrew Beauty Hall; peruse the food truck options outside the Vancouver Art Gallery as carefully as the art inside.
Locals Say: "The food court at International Village is surprisingly wonderful, especially Bali Thai and Canra Sri Lankan, and you can buy literally everything you need at Yokoyaya. But I would recommend never going to Jam Cafe because there is no brunch in the world worth that lineup."—Michelle Cyca, 30, writer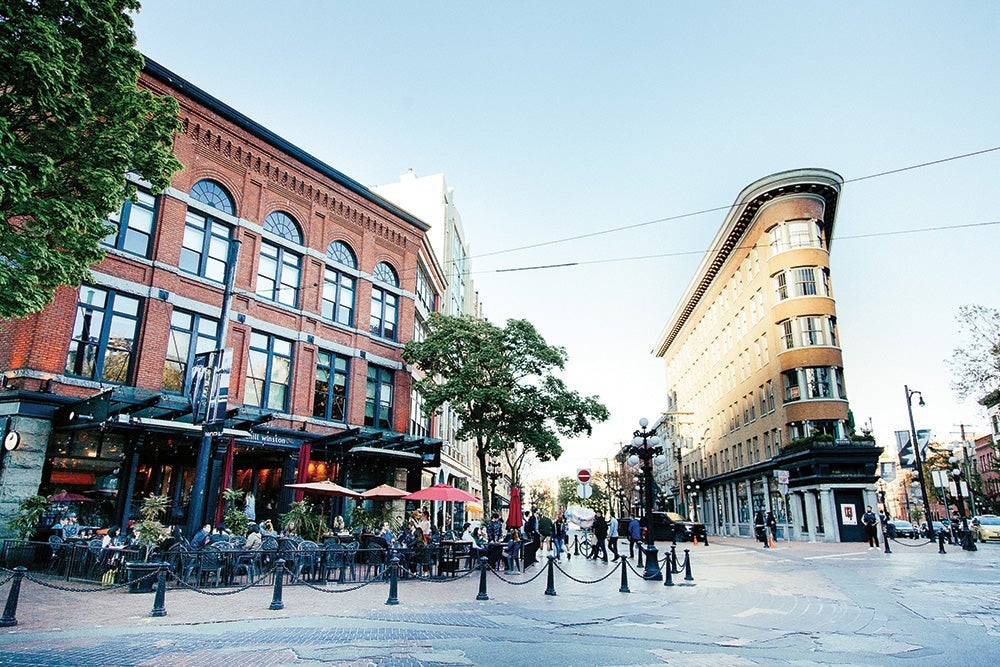 #6: Gastown

The Vibe: Techies and tourists collide on boutique-lined cobblestone streets
Average Monthly Rent: $914
Average Home Price: $644,599
Neighbourhood Dream Day: Work your way through the 50 beers on the menu at the Alibi Room; stock up on fashion basics at Frank and Oak.
Locals Say: "I live and work in Gastown, so I basically never leave. In the afternoon, I like to head over to Crab Park with friends for a barbecue and soak up the sun; it's not uncommon to see something unexpected, from an interpretive dance performance to a brass band on parade."—Kristyn Stilling, 37, film producer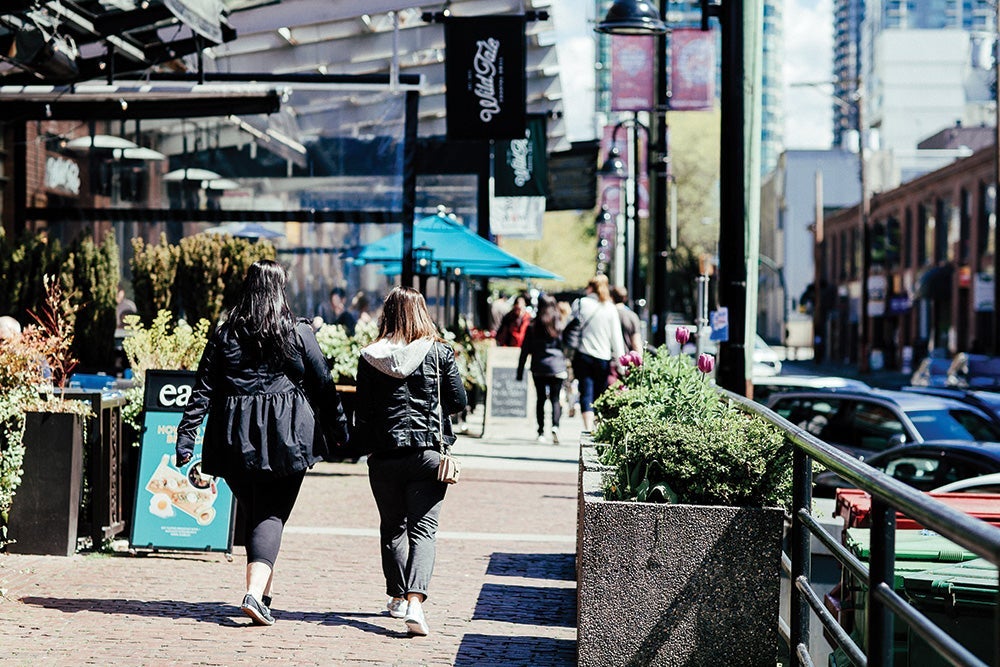 #7: Yaletown

The Vibe: West Coast yuppie paradise
Average Monthly Rent: $1,910
Average Home Price: $1,095,068
Neighbourhood Dream Day: Early morning SoulCycle sweat sessions; scones at Small Victory; vodka tonics at the Distillery Bar and Kitchen.
Locals Say: "Being a first-time mom actually means I can only do one or two things out of the house a day, but spreading doggie play dates at Coopers' Park and Hurricane Grill patio brunches throughout the week makes it a great place to live."—Deirdré Fang, 30, standardized-patient trainer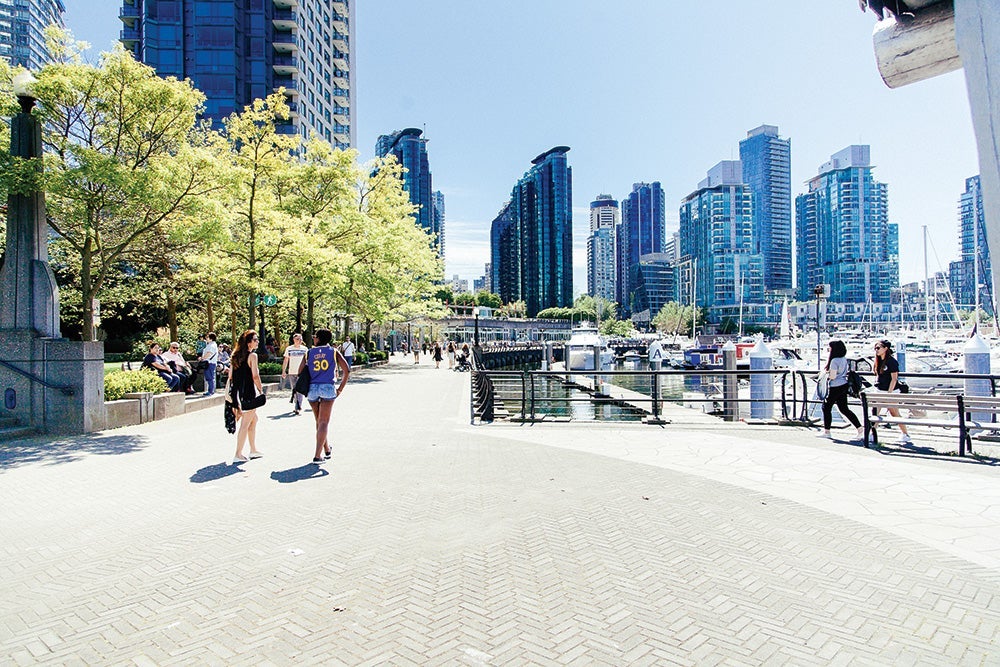 #8: Coal Harbour

The Vibe: Polished and serene
Average Monthly Rent: $1,823
Average Home: $1,358,013
Neighbourhood Dream Day: Cycle the seawall to earn that hot chocolate from Mink.
Locals Say: "It's the best location for North Shore mountain views and seaplane watching, with easy access to the West End, downtown, Stanley Park and the North Shore."—Maureen Leyland, 62, retired lawyer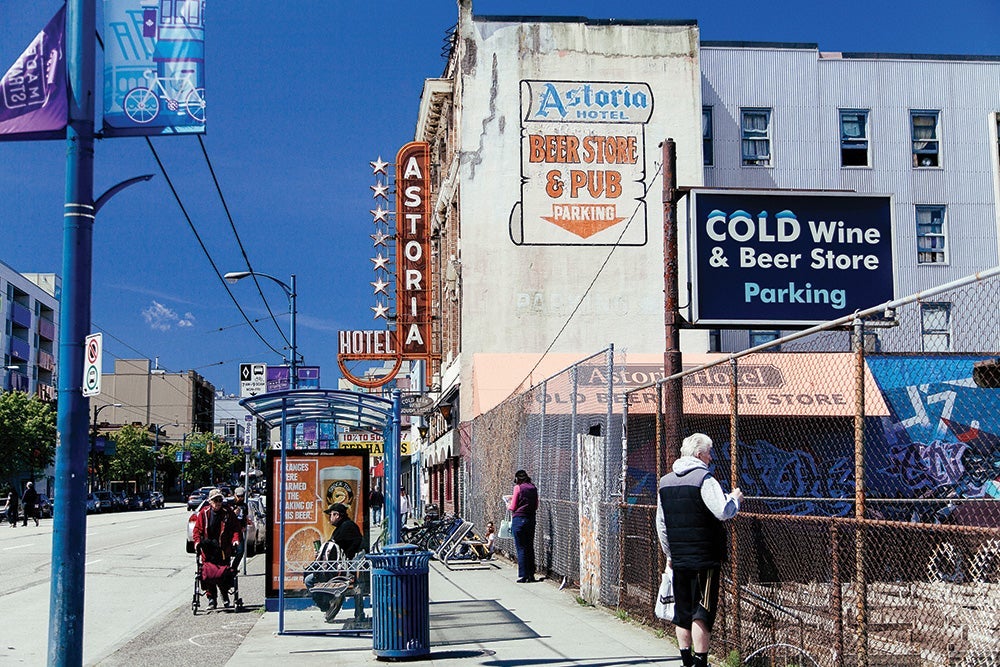 #9: Railtown

The Vibe: Gritty and up-and-coming
Average Monthly Rent: $560
Average Home Price: $679,218
Neighbourhood Dream Day: The Settlement Building is home to Postmark Brewing and excellent brunch spot Belgard Kitchen; find modern Québecois cuisine at the buzzy St. Lawrence and handcrafted furniture from Hinterland Design.
Locals Say: "Railtown still feels very quiet and removed from the city, even if it's just blocks away. Once people come here, they often stay." —Kate Horsman, nutritionist at Rebel Healt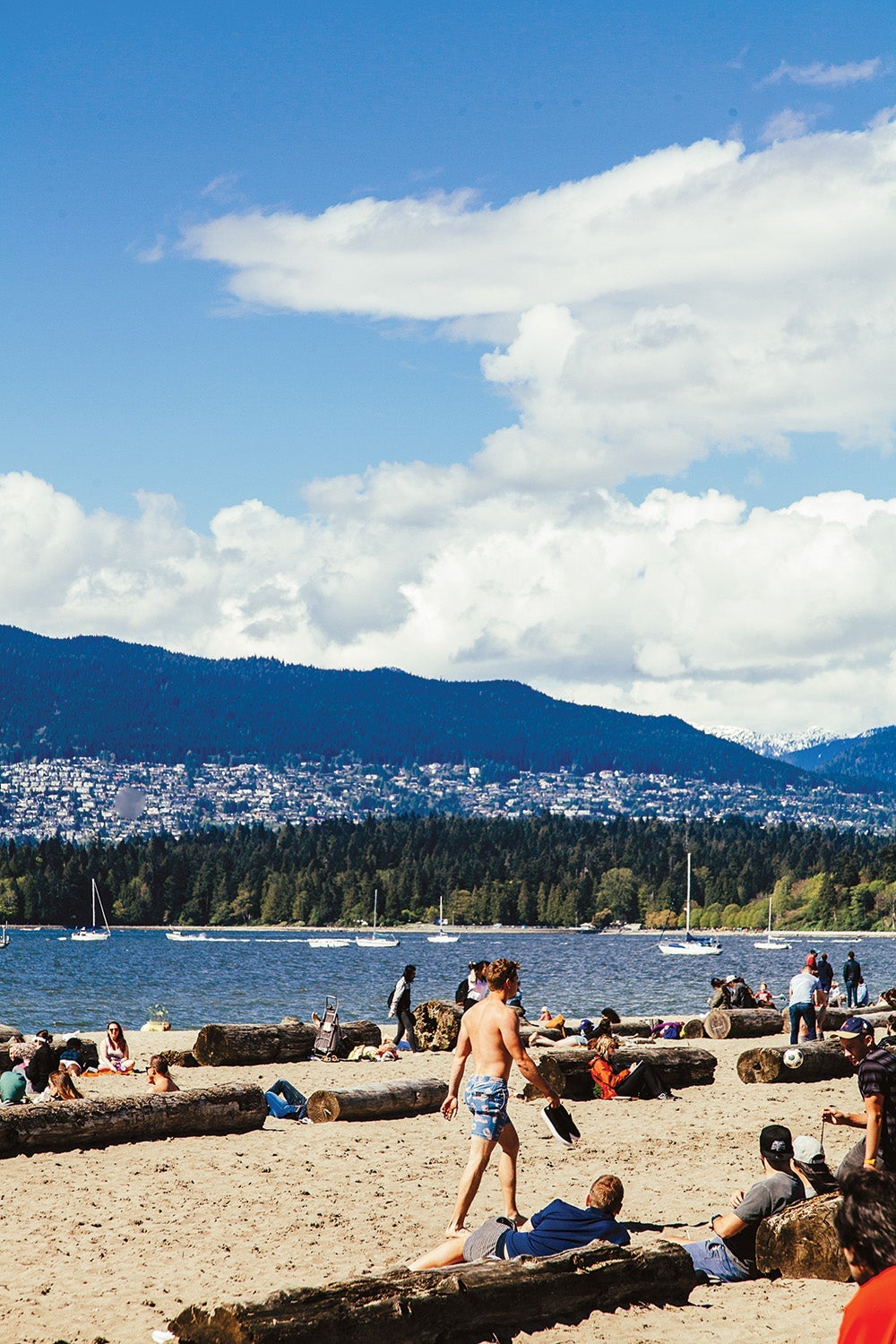 #10: Kitsilano
The Vibe: Chill but connected
Average Monthly Rent: $1,512 
Average Home Price: $1,277,759
Neighbourhood Dream Day: Snag a spot on Darby's second-floor patio—with views for miles—on a sunny day; the beach and Arbutus Greenway offer a little nature escape from the city.
Locals Say: "Walk down to 4th for breakfast pizza at Nook, hop on the bikes, cruise the Greenway, end up down at the Kits dog beach—it's all the perks of a regular beach, plus cute dogs."—Colin Sharp, 28, copywriter
#11: False Creek
#12: West Point Grey
#13: Main Street/Riley Park/Mount Pleasant
#14: Commercial Drive
#15: South Cambie
#16: Strathcona
#17: Killarney/Fraserview
#18: Hastings-Sunrise
#19: Kensington-Cedar Cottage/Fraser Street
#20: Marpole
#21: Kerrisdale
#22: Dunbar
#23: Shaughnessy
Feel free to contact me regarding any of these neighbourhoods for more information. I have lived in most of them at one time, travel to them frequently and know many people who live in them. My favourite and ranked as number one is the hood I've spent most of my life in, the West End. Nickey Bayley provides a great account of the merits of this bustling and diverse neighbourhood in the heart of downtown nestled between parks and ocean.
by 
By Nikki Bayley / Photo: Ariana Gillrie  March 18, 2018
I fell in love with the West End before I ever set foot inside Canada. It's the pin-up in that billion-dollar Tourism Vancouver beauty shot: all gleaming high-rises; the ocean hugging the beachfront shoreline; Stanley Park glowing greenly at its tip, with snow-capped mountains rising majestically to complete the can't-believe-it's-not-Photoshopped image of perfection. 
When I moved to the city in 2012, I wound up in a sublet in Kits and would longingly stare at what felt like the "real" Vancouver across the water. As soon as I could leave, I did so, and found my home among the gay bars, gyoza joints, all-night supermarkets, beautiful beaches and gorgeous green spaces of the West End. I loved that this was where the city comes to party: for Pride, for the annual fireworks, the concerts in Malkin Bowl and movies in the park. I loved its easy walkability, discovering the beauty of Mole Hill, the heritage homes scattered like hidden treasures, the summer market in Nelson Park and the contrary joy of snickering at the drum circle and fire-stick twirlers at Third Beach while secretly loving them.
From nesting crows randomly dive-bombing our heads in the spring to the nightly urban adventure of dodging skunks and begging tourists to stop feeding raccoons: we might be in the heart of the city, but our leafy 'hood is alive with nature. And if you ever need a break from the gleeful shimmer of the disco lights strung along Davie Street or the noisy bustle of hungry diners as they wait in lineups to devour bowls of ramen and triple-fried Korean chicken on Denman and Robson, escape is a few minutes away into the hush of Stanley Park, our big and beautiful backyard. I fall in love with the city every single time I walk around Lost Lagoon, seeing those glass high-rises glittering across the water, framed by soaring firs.
 "I found my home among the gay bars, gyoza joints, all-night supermarkets, beautiful beaches and gorgeous green spaces of the West End."
The first apartments in the West End were just three floors high, then six, and in the '60s and '70s, an orgy of high-rise building broke out, with more than 200 towers pushing their way into the skyline. The West End became one of the most densely populated areas in North America, and that hodgepodge of people living in close quarters blossomed into a network of communities. From the LQBTQ+ support of Qmunity to the Gordon Neighbourhood House on Broughton, with their almost-daily community lunches and programs of everything from qigong to family-friendly play sessions and social events for twenty- and thirtysomethings, there's a deep sense of community in the 'hood—and, in a city that has a rep for social isolation and being tough on newcomers, the West End welcome is especially warm.
Of course, in this city, that warmth comes at an increasingly high price. When I got here, you could easily find a decent apartment for around $1,000 a month; five years later, that's simply not possible. "The challenges in the West End are partly because it is so desirable," says MLA Spencer Chandra Herbert. "Rents have gone crazy; long-time residents are really squeezed and hit by large rises; we have an occupancy rate of 99.6 percent in the West End, and there's steep competition for that 0.4 percent." Although Herbert's team has done essential work helping end fixed-term tenancy loopholes and outlawing the odious Geographical Area Increase clause (a clause in the
Residential Tenancy Act 
that said a landlord should be able to charge more to existing tenants if other nearby rents were higher), he says that as a government they're playing catch-up: "I'm a positive guy, but we need to make changes to stop it becoming a playground for the rich."
"I fall in love with the city every single time I walk around Lost Lagoon, seeing those glass high-rises glittering across the water, framed by soaring firs."
With luck, those safeguards will be in place as we transition through the West End Community Plan, which currently has 10 towers under construction with another four on the way, and seeks to add some 7,000 to 10,000 new residents over the next 30 years. It's a plan that Green Party councillor Adriane Carr voted against, over fears that the Georgia, Alberni and Burrard developments would push land prices sky-high (which they have) but, an optimist at heart, Carr says she remains hopeful for the "interior" of the West End—which has limited opportunities for increased density, and for the positives of the plan: increasing community support and maintaining the leafy green centre of the West End. 

I know that the West End is going to change with such increased density, and although Peter Meiszner, editor-in-chief at UrbanYVR, a Vancouver-based real estate, architecture and urban-planning news website, tells me that "the city's West End Plan has pushed up land values so high because of the increased density now allowed that luxury condos are really the only thing that make economic sense," I know we'll find a way for our communities to stay strong; after all, if you're going to live in Vancouver, there's simply nowhere better to live than the West End, and all of us residents know that. Each spring brings the beauty of cherry blossoms to our streets. It's an appropriate natural phenomenon for this ever-evolving 'hood: sakura viewing is meant to teach us that beauty is fleeting, that we should enjoy what we have right now. Part of loving any urban neighbourhood is accepting change and savouring the moment—and keeping the spark alive in this magical place while it's here.